Briefly about
---
Free online decision table tool. Makes creation of decison tables simple and automated. Depending on the count of variables and their possible values, automatically calculates all possible combintations and allows for adding a decision to them. Use colors for highlighting important and hiding bad flows. Export to text, table or print. Share with colleagues using url or QR code.
What is a decision table
A decision table is a way of visual mapping of possible flows of some decision, when there are a lot of variable conditions involved. The brain of an ordinary human has a quite narrow focus and we often fall short of keeping track of various combinations of things we are trying to form our decision for. The usage of decision table may help in visualising, not missing and organizing all possible variants of something complex you are trying to get a grasp on.
The decision tables are mostly used by business analysts, developers, and philosophers. But once you know how helpful this method could be, you start to use it in everyday life: from deciding when should you go for a milk, to understanding how to act in complex life situations.
Just write down all available variants in a few lines and put your opinion right next to each one - you have your first decision table. This works terrific when dealing with a few choises, but becomes unberable having a lot of them. This is when automated decision table software becomes really useful.
Automated decision table benefits
This free online decision tabler maker is pretty much the same as your piece of paper and a pen when you have all your variants. But it comes with an irreplaceable feature: it maps all possible combinations for you. This unberable and prone to error task is done seamlessly by a computer.
How to use this tool
Overview
Set desired number of columns.
Fill every option in a column.
See all the combinations below.
Make decisions at place
The interface of this broswer decision table tool is rich enough to make decisions right here. Use rows colors, type decisions, change colors and do decide.
Continue on paper
Use "Print" button once set the combinations and continue on paper, just as you would do without any software, but being on a safe side: computer doesn't miss any option.
Continue in Excel or Google Sheets
Use "Table" button once set the combinations, copy the table and paste it into your table processor. This way you have everything mapped plus the power of table processor - remove, group, and swap rows as you like.
Share and Save
Use a lot of sharing options available at the top panel to share the filled table with your colleagues, friends, or even with yourself in the future.
Tips
Name a table: just click on a phrase above the table to edit a title.
You can name a column: just click on its header and type the desired name in.
You can add options, a lot of them: start typing in a free field below the last option in a column and see it starts to take a place in your combinations.
Colorize decisions: there is a color palette near the each table row, click the part of it to see the row in color.
Try templates: XOR, Discount, Golf, and Unit Test buttons at the top populate your table with a sample data.
About
This tool is developed and maintained by the authors of this site, Max "Jakeins" in particular.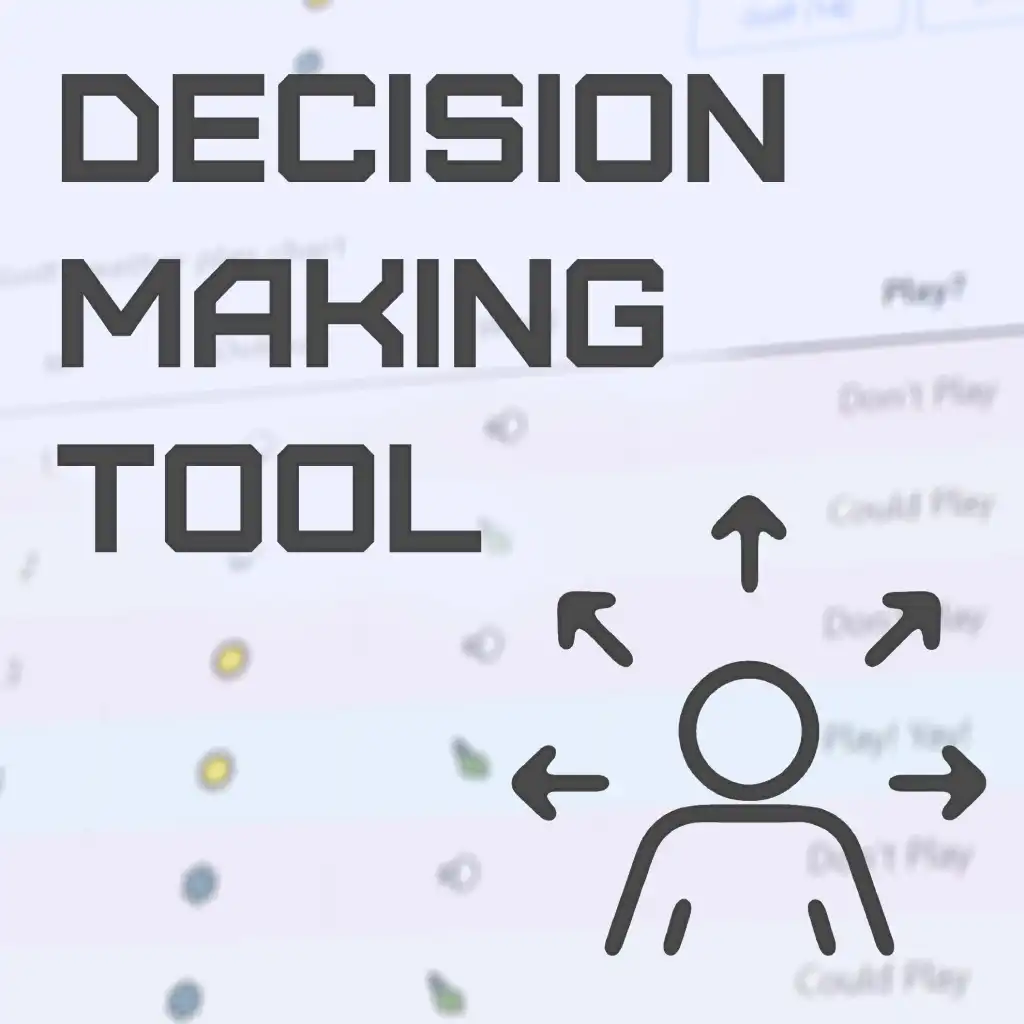 Feel free to report any problems and express your ideas for fixes and features, just let us know.